Description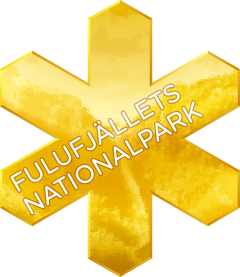 We meet our guide at naturum Fulufjället. After a short introduction we start the hike into Fulufjället National Park, a mountain located in the middle of Sweden. We follow the trail through the old growth forest and mire to Njupeskär – the highest waterfall of Sweden. After admiring the fantastic waterfall we will hike up to the plateau and enjoy the beautiful view. Up here we head to the oldest tree in the world. We will follow the trail over the mountain plateau and cross the creek that downstream forms the waterfall. Here we take a break and drink pure water from the creek and enjoy some bakery – the typical swedish fika. During the tour you have plenty of occasions to ask about the unique environment and the guide will point out many amazing details that an ordinary hiker easily would miss. Finally we descend  from the plateau along the mountaion slopes and finish the excursion at naturum – where we started some hours before.
Discover the breathtaking Fulufjället National Park together with a guide
Date: This tour is offered Wednesday – Friday from June to September. Pre-booking required!
Excursion time: ca 5 hours
Participants: groups only
Price: on request only
Place & time: Meeting place is naturum Fulufjället, located 6 kilometers from Mörkret, 30 kilometers from Särna and 43 kilometers from Idre. In Mörkret you follow the sign "Fulufjällets Nationalpark" and then 6 kilometers to the parking. From here it is about 200 meter to walk to naturum Fulufjället.
This is included: Well educated guide with good knowledge of Fulufjällets ecology and biodiversity, guided tour to Swedens highest waterfall, the worlds oldest tree and to the mountain plateau, bakery during the break.
Languages: Swedish, English
More: Recommended age from 10 years. Participants should be able to walk freely offside the trails. We walk about 6 – 7 km in partially steep and rocky environment. Difficulty: middle/rough. We recommend that you wear weatherproof clothes and hiking boots for the tour. Bring camera, binocular, loupe, water bottle and snacks. Please visit Björn & Vildmark's homepage for further information.
Optional: Visit of Naturum Fulufjäll before the guided tour (self guided, free of charge)